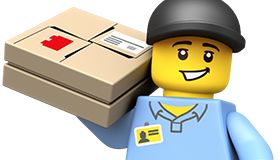 LEGO®
6137030
Camillot
Camillot

5

5

2

.
Average rating5out of 5 stars
Retired Product
Shop more like this:
This royal Mixel has always had servants to take care of every part of its life. But now Camillot wants to meet all the citizens of the Mixopolis and learn the art of mixing. Just be careful this royal character doesn't accidentally hurt someone with that axe arm!
Find out how royalty lives with heir-to-the-throne Camillot of the LEGO® MIXELS™ Medivals tribe!
Castle-shaped Camillot features an axe arm, cannon nose, hidden opening mouth, posable joints and a flag on its head.
Collect all 3 Medivals knights in LEGO® MIXELS™ Series 7 to build the MAX!
Combine with 41561 Tapsy from the Mixies to create a fun new MIX!
Go to LEGO.com/MIXELS for exclusive building instructions, games, animations and much more.
Watch all your favorite MIXELS™ characters on Cartoon Network.
Stands over 3" (9cm) tall.
Building Instructions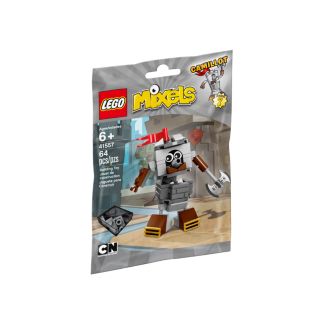 Free standard 3 to 8 business day shipping on all merchandise orders over $35!
Express shipping available at checkout.
Custom parts orders are sent separately from merchandise and take additional time to process and deliver.
Unopened merchandise may be returned for a full refund within 90 days of receipt of your order.
Some exclusions apply. Visit our Deliveries and Returns page for more information.
Customer Reviews
Overall Rating
Average rating5out of 5 stars
100% would recommend this product.
Rating
Overall Experience
Play Experience
Average rating4out of 5 stars
Level of Difficulty
Average rating1out of 5 stars
Value for Money
Average rating4.5out of 5 stars
Please note that by submitting a helpfulness vote on a review your IP address is collected and stored by our trusted third party service provider for the sole purpose of preventing multiple entries from the same IP address. To see how to control your personal data, please see our Privacy policy.
Reviews
Average rating5out of 5 stars

I would recommend this to a friend!

41557 Camillot is a set which contains 64 pieces. The build is enjoyable but very easy and results in a mostly gray and brown Mixels character with a dark silver (pole)ax attached to his arm. The ax revolves on its axis, which makes it look very intimidating. Camillot's arms and legs are all ball-jointed, so they can bend any which way, but I did find the arms a bit too short for proper battle. Camillot's up-and-down moving nose is apparently a cannon, though he can't shoot from it. The character also has a ball joint on his neck and he splits almost in half to reveal a white-fanged mouth. As Camillot has only two legs, opening his mouth completely will result in him tumbling down on his back.

Play Experience

Average rating4out of 5 stars

Level of Difficulty

Average rating1out of 5 stars

Value for Money

Average rating5out of 5 stars

Building Experience:

Intermediate LEGO builder

5

5

Camillot

Average rating5out of 5 stars

I would recommend this to a friend!

This set is meant to be part of the set of 3, but it also stands alone as a kit that would fit in with other set, Works Well with the Knight kingdom set. The Arm movement are good and the hidden mouth is a nice feature. Nice use of the walled bricks, which are not seen too much. The item stands easy on its legs alone and does not click down to the boards and has no need too. if was to have to point out a fault, would say the eyes are made more complex than needed

Play Experience

Average rating4out of 5 stars

Value for Money

Average rating4out of 5 stars

Building Experience:

Advanced LEGO builder

5

5

Camillot