Creator Expert
LEGO®
6061193
Restaurant i Paris
Restaurant i Paris

4.9048

5

252

.
Average rating4.9out of 5 stars
Advarsel!
Kvelningsfare.
Små deler.
Utgått produkt
Se lignende produkter:
Det er svært travelt på restauranten i Paris. Idet en scooter kjører forbi, skynder kelneren seg mellom bordene. Samtidig gjør en nervøs, ung mann ringen klar til å fri! Det er like hektisk på kjøkkenet, der kjøkkensjefen strever med å klargjøre maten. Denne nydelige og detaljerte bygningen blir brukt i veldig mange historier, og er et flott tillegg til modellbyggeserien. Restauranten i Paris har et velutstyrt kjøkken med blå og hvite fliser og servise, så vel som en koselig leilighet med nedtrekksseng, en liten kjøkkenkrok og peis. I øverste etasje finner vi kunstnerens rom, som inkluderer et varmeapparat i støpejern, staffeli, pensel og to malerier av den ambisiøse kunstneren. På utsiden har vi trapper som fører til takterrassen med hengende lanterner og blomster, hvor middagsgjestene spiser mat ute i det fri. Denne fantastiske modellen av restauranten i Paris inkluderer en fasade med croissanter, muslinger og fjærdetaljer som fanger opp den unike stemningen i Paris. Inkluderer 5 minifigurer: kjøkkensjef, kelner, jente og et romantisk par.
Byggeinstruksjoner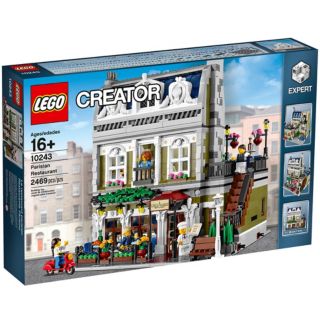 Fri standardfrakt på 5–7 virkedager for alle varebestillinger på mer enn 500 kr.
Ekspresslevering er tilgjengelig på betalingssiden.
Tilpassede delebestillinger sendes separat fra varer og har lengre behandlings- og leveringstid.
Varer som ikke er åpnet, kan returneres for en fullstendig refusjon innen 90 dager etter mottak av bestillingen.
Enkelte utelukkelser gjelder. Gå til Frakt og retur-siden for å få mer informasjon.
Kundeomtaler
Generell vurdering
Average rating4.9out of 5 stars
98% Vil du anbefale dette produktet
Vurdering
Generell opplevelse
Opplevelse under lek
Average rating4.7out of 5 stars
Vanskelighetsgrad
Average rating3.7out of 5 stars
Verdi for pengene
Average rating4.7out of 5 stars
Merk at når du sender inn en stemme for hvorvidt en vurdering er nyttig, vil IP-adressen din samles inn av vår pålitelige tredjeparts tjenesteleverandør. Det eneste formålet med dette er å forhindre at det sendes inn flere stemmer for samme vurdering fra den samme IP-adressen. Les Personvernerklæringen vår for å se hvordan du kontrollerer bruken av personopplysningene dine.
Omtaler