Creator Expert
LEGO®
Corner Garage
Shop more like this:

There's so much happening at the corner garage
Capture the hustle and bustle off a busy corner garage, with a Vet's clinic upstairs and an apartment above that.

Recreate a classic 1950s street corner
Build, play and display. Celebrate life in the 1950s with this everyday scene from a busy downtown street.
LEGO® Creator Expert Corner Garage
Filling up gas, fixing cars
A busy working day at the first-level garage.
Vehicle worksshop
Opern the door for the tire mounter and working vehicle lift.
Caring for animals
A goldfish and a bunny are at the mid-level vet's clinic.
Cool penthouse
The apartment includes a well-equipped kitchen.
Relaxing rooftop terrace
With a sun lounger in the shade of a colorful parasol.
Decorative outside
The exterior has a 1950s façade with signage and sidewalk.

Includes gas station owner, mechanic, vet, woman, man and a girl minifigure.
Plus a bunny, parrot, dog, frog and fish figures.
Drop by the LEGO® Creator Expert 10264 Corner Garage, where you'll discover a world of fun and surprises! This amazing model comes with removable building sections for easy access to the highly detailed interior and comprises 3 stories. On the ground level there's a 1950s-style gas station with fuel pump, kiosk and a vehicle workshop complete with a roll-up door, vehicle lift and tire mounter. At the mid-level animal clinic you'll find an examination table, fish tank, and a waiting area with sofa, while on the upper level you'll discover a well-equipped apartment with kitchen, TV, sofa, bed and a staircase that leads to a rooftop terrace with sun lounger, parasol and flower garden. The exterior of the building features a classic 1950s facade with signage, detailed windows and a decorative roofline, plus a sidewalk area with a tree and an ornate streetlamp. This charming addition to the Modular Buildings series has been designed to provide a challenging and rewarding building experience, full of nostalgia. Also includes a scooter, tow truck and 6 minifigures, plus parrot, bunny, dog, frog and fish figures.
Building Instructions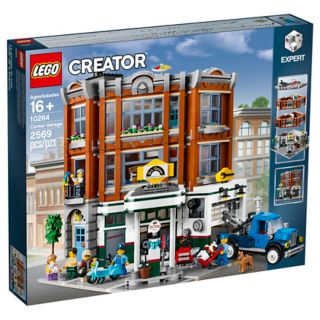 Free standard business day delivery on all merchandise orders over 55 €!
Express delivery available at checkout.
Custom parts orders are sent separately from merchandise and take additional time to process and deliver.
Unopened merchandise may be returned for a full refund within 90 days of receipt of your order.
Some exclusions apply. Visit our Deliveries and Returns page for more information.