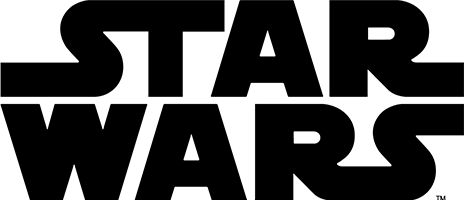 Star Wars™
LEGO®
6251932
Droid Commander
Droid Commander

2.4444

5

18

.
Average rating2.4out of 5 stars
Warning!
Choking Hazard.
Small parts.
product.sale.price
249,99 €
Available now
Shop more like this:
8+

Ages
1177

Pieces
1875

VIP Points
75253

75253

75253

Item

Interactive fun with LEGO® Star Wars™ droids
Boost learning with fun and interactive missions in a familiar Star Wars™ themed universe.

Learning while playing
Youngsters learn coding and critical-thinking skills as they build, code and play with 3 iconic LEGO Star Wars™ droids.
LEGO® Star Wars™ BOOST Droid Commander
Detailed, buildable droids
Iconic droid models make for a fun building challenge.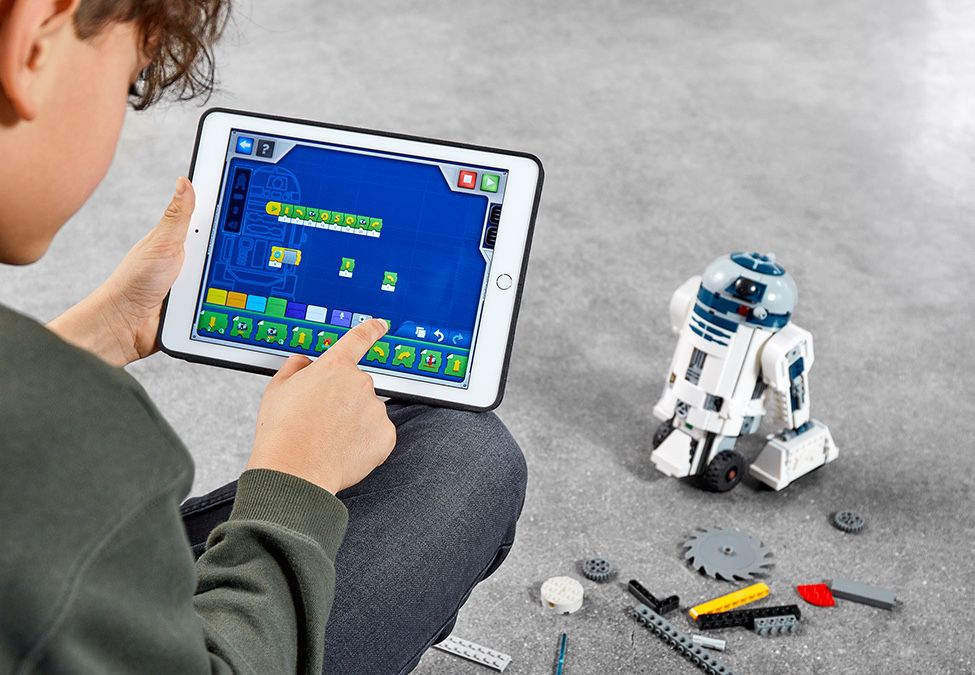 Feature-packed app
Free app has drag & drop coding plus authentic sound & music.
The right tool
Equip the droids with tools and weapons to complete missions.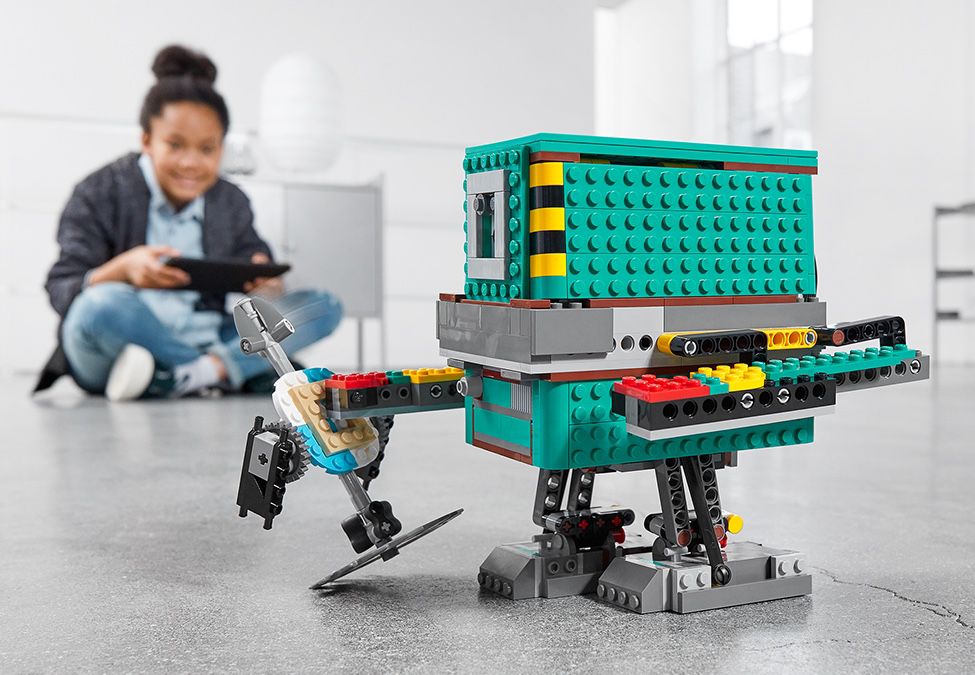 Buildable Props
Shoot targets, dodge barriers and much more!
An iconic partnership
Building on 20+ years of LEGO Star Wars collaboration.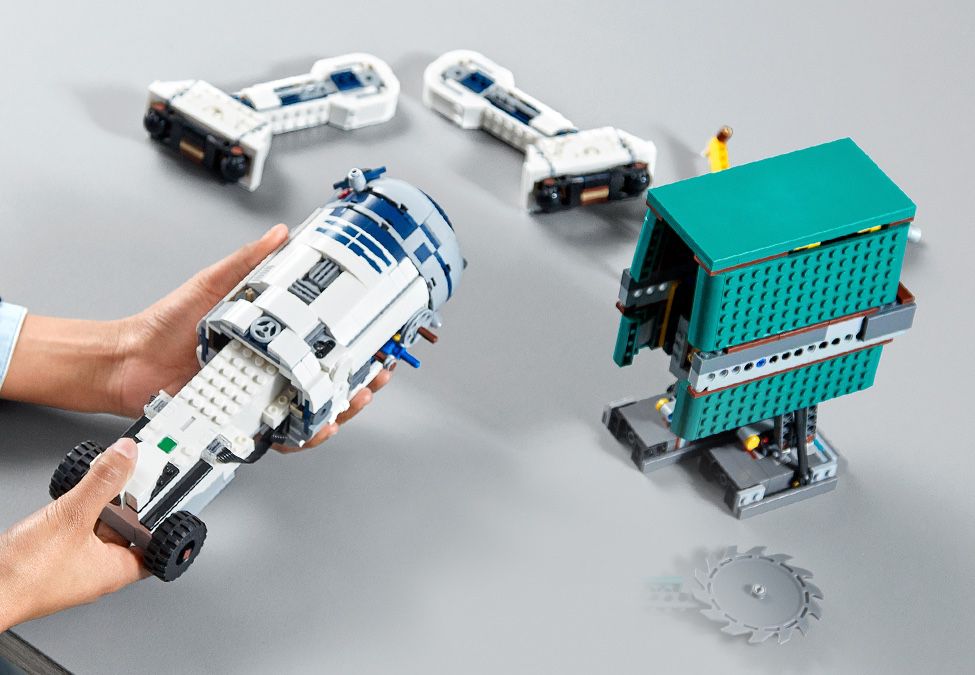 Quick installation
Bluetooth-controlled Move Hub installs in no time.

Guided building experience
"Even younger kids will enjoy the guided building process using the free LEGO® BOOST Star Wars™ app"
Free Mini Droid gift with purchase when you buy the LEGO Star Wars BOOST Droid Commander set.
Introduce your Star Wars™ fan to a rich LEGO® brick galaxy of lovable droids, exciting missions and coding fun for kids with the LEGO Star Wars BOOST Droid Commander set. This interactive robot toy puts your child in command of 3 app-controlled Star Wars LEGO droids: R2-D2, a Gonk Droid and a Mouse Droid, each with their own personalities and skills. Using the free LEGO BOOST Star Wars app, your young commander builds the droids, inserts the Bluetooth-controlled Move Hub into the one that will solve each mission, and brings it to life using the intuitive drag-and-drop coding environment (visit LEGO.com/devicecheck for a list of compatible devices). Your youngster then constructs tools, weapons, targets, obstacles and lots more as they progress through over 40 exciting missions – they'll love it! This set makes a great birthday or Christmas gift or just a gift for any occasion. It also helps youngsters develop their critical thinking and creative problem-solving skills, introduces them to basic engineering and robotics, and, just as importantly, lets them play in a rich and expansive galaxy filled with unforgettable icons like Luke Skywalker, X-wings, the Death Star and many more.
Kids will learn to code and develop creative problem-solving skills as they play with this interactive STEM toy, featuring 3 buildable LEGO® Star Wars™ droids and over 40 interactive missions.
This fun LEGO® Star Wars™ tech toy for kids includes a color & distance sensor, interactive motor, Move Hub and 1,177 pieces – enough to build all 3 lovable R2-D2, Gonk Droid and Mouse Droid LEGO figures. Please note that only one robot can be brought to life at a time using the included Bluetooth-controlled Move Hub.
Buildable props include rocket boosters, a catapult, a cake shooter, a target, color decoder, obstacles and many more.
Kids aged 8+ will love building the robot toys using the free LEGO® BOOST Star Wars™ app, attaching the tools and weapons, and bringing them to life to solve fun, challenging missions with the easy-to-use coding environment. Visit LEGO.com/devicecheck for a list of compatible devices.
This great Christmas, birthday or gift idea for any occasion features unforgettable characters, locations, sounds and music from episodes I-VI of the Star Wars™ movie saga, which kids and adults will love to interact with.
LEGO® brick R2-D2 measures over 7" (20cm) high, 3" (10cm) long and 5" (14cm) wide. LEGO Gonk Droid measures over 7" (18cm) high, 6" (16cm) long and 3" (9cm) wide. LEGO Mouse Droid measures over 5" (14cm) high, 6" (17cm) long and 3" (9cm) wide.
Free LEGO® BOOST Star Wars™ Droid Commander app is available for selected iOS, Android and Fire smart devices. Ask your parents' permission before going online.
Includes LEGO® Light Brick.
Free 20th anniversary mini Droid Commander gift
Building Instructions