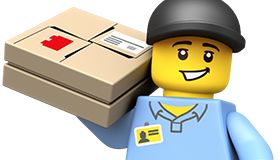 LEGO®
4585533
Minifigure Ice Cube Tray
Minifigure Ice Cube Tray

4.2222

5

18

.
Average rating4.2out of 5 stars
Race to the Hidden Side™ with a FREE Drag Racer when you spend over 45 €.
Retired Product
Keep cool with LEGO minifigure ice cubes!
Makes 8 minifigure-shaped ice cubes at once
Constructed of silicone
Building Instructions
Free standard 2 to 3 business day delivery on all merchandise orders over 55 €!
Express delivery available at checkout.
Custom parts orders are sent separately from merchandise and take additional time to process and deliver.
Unopened merchandise may be returned for a full refund within 90 days of receipt of your order.
Some exclusions apply. Visit our Deliveries and Returns page for more information.
Customer Reviews
Overall Rating
Average rating4.2out of 5 stars
89% would recommend this product.
Rating
Overall Experience
Play Experience
Average rating4.1out of 5 stars
Level of Difficulty
Average rating1.3out of 5 stars
Value for Money
Average rating3.9out of 5 stars
Please note that by submitting a helpfulness vote on a review your IP address is collected and stored by our trusted third party service provider for the sole purpose of preventing multiple entries from the same IP address. To see how to control your personal data, please see our Privacy policy.
Reviews
Average rating1out of 5 stars

These ice cubes are so small that it takes three times filling and freezing this tiny very expensive tray to get one glass of ice. Really you couldn't make this into normal size ice cubes that might actually be worth something? I am a life time lover of Legos and have been usually a huge proponate of Lego but this one is a huge disappointment.

Play Experience

Average rating2out of 5 stars

Value for Money

Average rating1out of 5 stars

1

5

Minifigure Ice Cube Tray

Average rating5out of 5 stars

I would recommend this to a friend!

This minifig icecube tray so cool! The minifigs pop out easily and they are shaped exactly like their plastic relatives. My friends are amazed when I show them my frozen minifigs. I was actually thinking about making Jello minifigs... that sounds good to me! I currently have 2 trays and I am thinking about getting 2 or 3 more so I can have enough ice if I have a Lego themed party! However, the only negative I would have to say about this product are that the minifigs melt really fast due to their small size (they are about the same size as a real minifig)... so make sure your drinks are pre-chilled in the refrigerator to prevent them from melting fast. But overall, this product is a great buy! I would definately reccomend it to everyone.

Play Experience

Average rating5out of 5 stars

Value for Money

Average rating5out of 5 stars

5

5

Minifigure Ice Cube Tray

Average rating5out of 5 stars

I would recommend this to a friend!

its perfect for party supply!! i made chocolates, ice, crayons and candles too!!!

Play Experience

Average rating5out of 5 stars

Value for Money

Average rating4out of 5 stars

Building Experience:

Novice LEGO builder

5

5

Minifigure Ice Cube Tray

Average rating5out of 5 stars

I would recommend this to a friend!

This is a great little tool to have around the house. As cool as the ice is when you're done freezing it, they don't retain their form very long. Since the tray is made from silicone, it is very durable and doesn't get that horrible, old ice smell as most other ice trays to. As suggested by other reviewers, I like to make all sorts of foods using this tray, including gummies, chocolate and even mini cakes(cake doesn't work as well) Great accessory, I recommend it to anyone willing to pay $4.95 for shipping.

Play Experience

Average rating5out of 5 stars

Value for Money

Average rating5out of 5 stars

5

5

Minifigure Ice Cube Tray